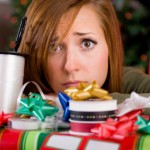 We all know the holidays can be challenging and stressful. Surveys show that up to 80% of Americans experience moderate to severe stress during the holidays. The reasons for stress range from overextending financially and / or socially to meet holiday gift and event obligations, to being faced with family psychological dynamics, or profound loneliness from not having anyone. For most the stress ends up manifesting as depression, anxiety, or irritability and anger.
The good news is that at Health Solutions I have very effective tools to help you manage and minimize stress and its damages to psyche and health!

Here is a list of excellent stress busting therapies offered:
Therapeutic Massage – using advanced massage techniques the knots / trigger points and tensed parts of the body are treated leading to a release of deeply held tensions and calming of the central nervous system and mind.
Acupuncture – is well known for switching the stress (sympathetic branch) response in the autonomic nervous system off and the rest and repair (parasympathetic branch) on. Acupuncture is very effective at treating stress, depression, anxiety and irritability. Most patients at Health Solutions feel profoundly calm and euphoric after acupuncture.
Massage and Acupuncture are also offered together for powerful results!
Chinese Herbal Medicine – for those that need an every day therapeutic effect Chinese herbs are a gentle but powerful way of dealing with stress, depression, and anxiety. The herbs don't cover up symptoms but rather promote a balance and help where your system is stuck in negative functioning.
Remember to plan your holidays, appropriately set boundaries and seek help when you need it.
Thanks for reading and happy holidays!
Miklos Hubay LAc LMT
805 895-6015
sbacupuncture.com